Top headlines
Gilgeous-Alexander scores career high
Shai Gilgeous-Alexander tosses up an and-1, putting him at a career-high 23 points.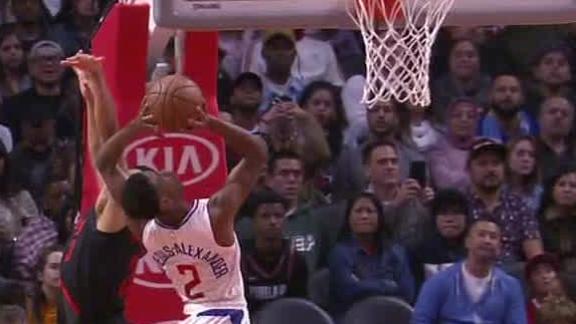 Curry scores 20, reaches milestone vs. Grizzlies
Steph Curry puts up 20 points and goes over 15,000 points for his career as Golden State breezes past Memphis 110-93.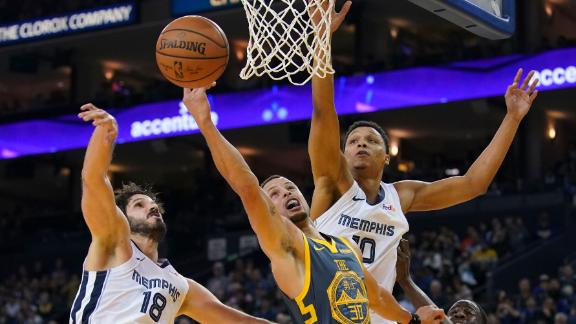 Harrell ejected on questionable flagrant foul
Montrezl Harrell sprints off the court after being ejected on a questionable flagrant foul to Jusuf Nurkic.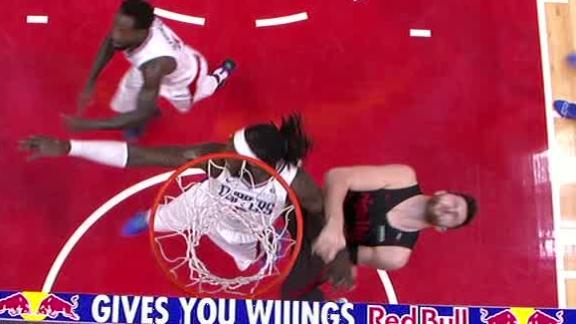 Curry reaches 15,000 career points with 3-ball
Steph Curry nails a 3-pointer to give him 15,000 career points.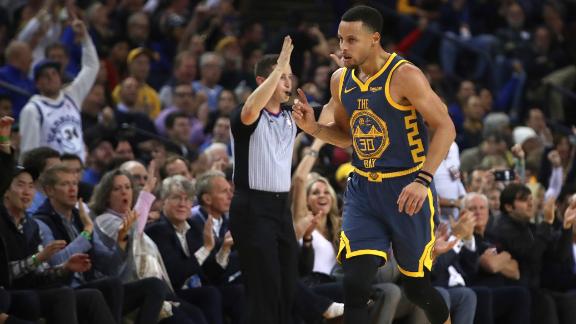 Spurs rout 76ers behind DeRozan's balanced game
DeMar DeRozan scores 14 of his 20 points in the first quarter as the Spurs beat the 76ers 123-96.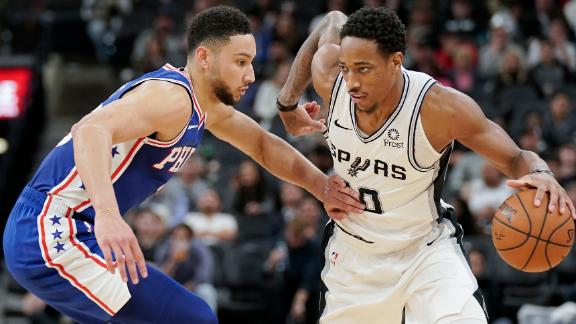 Bell gets stuffed by the rim
Jordan Bell drives the lane and looks to throw down a one-handed dunk but is rejected by the rim.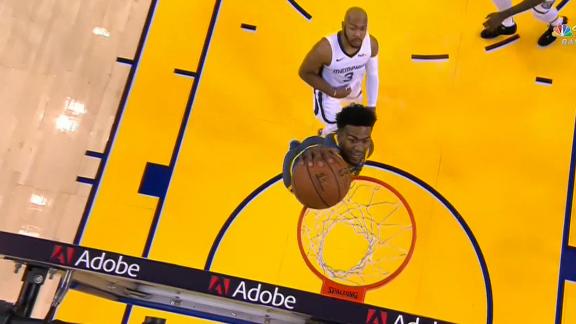 Westbook, George lead Thunder to win over Bulls
Russell Westbrook records a triple-double and Paul George chips in with 24 points to help the Thunder beat the Bulls 121-96.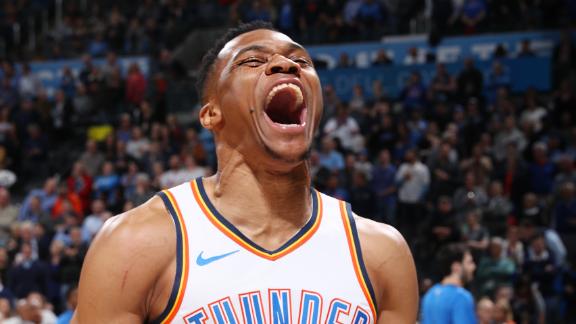 Harden leads Rockets with 47 points in win
James Harden leads all scorers with 47 points, including the late dagger, in Houston's 102-97 win over Utah.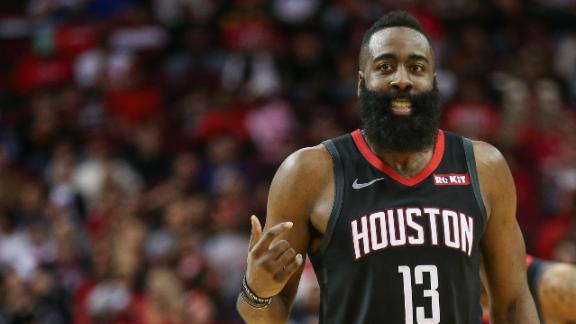 Lopez in the center of Bulls-Thunder drama
A scrum ensues with Robin Lopez and other players in the third quarter and minutes later, Lopez gets ejected for tossing the ball at Jerami Grant.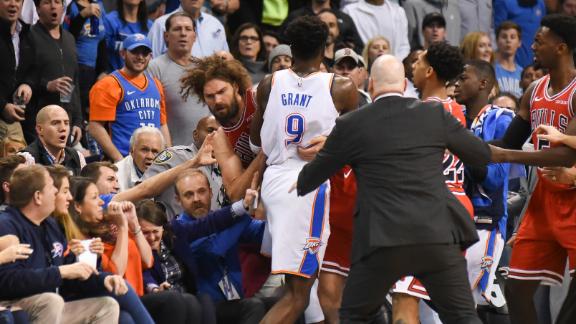 Giannis' double-double leads Bucks to narrow win vs. Pistons
Giannis Antetokounmpo scores 32 and grabs 12 rebounds to top Blake Griffin's triple-double as the Bucks win 107-104 vs. the Pistons.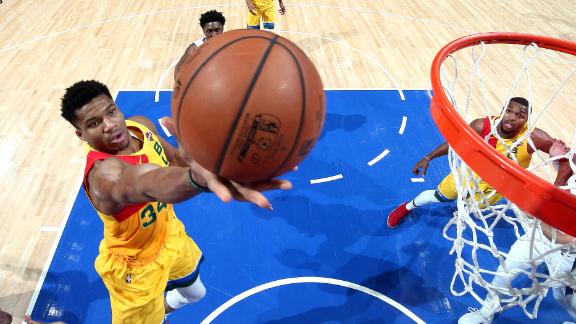 Harden puts Gobert on a poster
James Harden rushes to the rim and throws down a powerful one-handed jam over Rudy Gobert.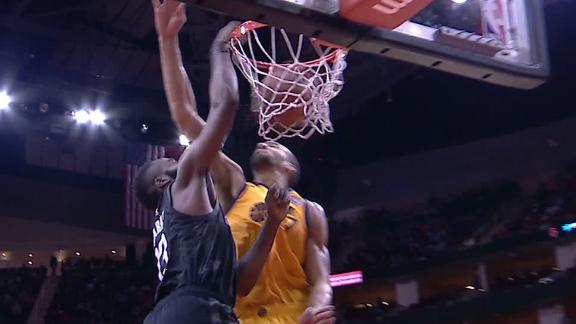 Lopez tosses ball at Grant, gets ejected
Robin Lopez is called for a foul then tosses ball at Jerami Grant which caused the refs to throw him out of the game.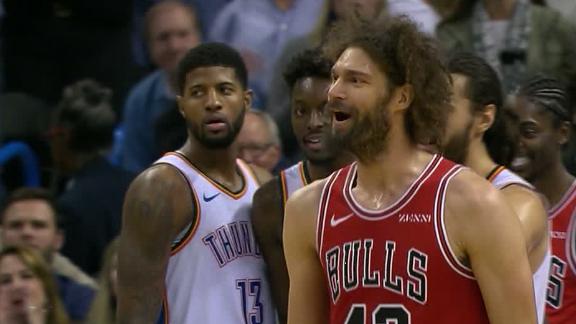 WATCH - India lower order blown away by Australia
Australia ran through India's lower order on day five to complete victory by 146 runs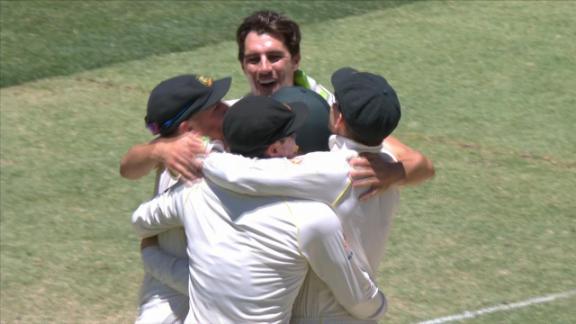 Did not have any problem with my dismissal - Kohli
The India captain speaks about the controversial catch, stump mics, banter and more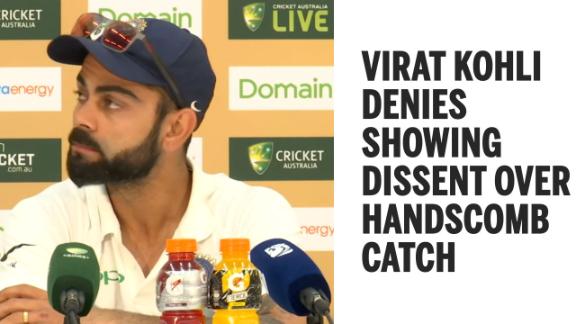 'We play our best cricket when we put emotion aside' - Paine
Australia's captain also said his India counterpart Virat Kohli 'brings out the competitive spirit in a lot of people'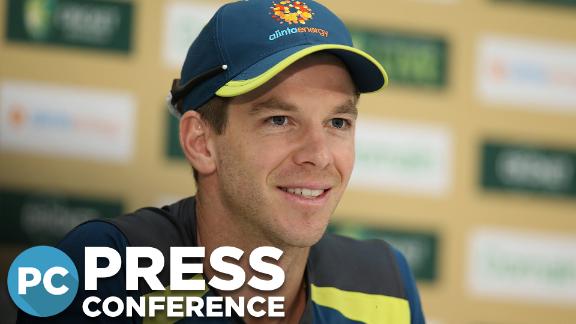 Kartik: India started the Test on the wrong foot because of team selection
The former spinner also said that India conceded far too many runs in the first innings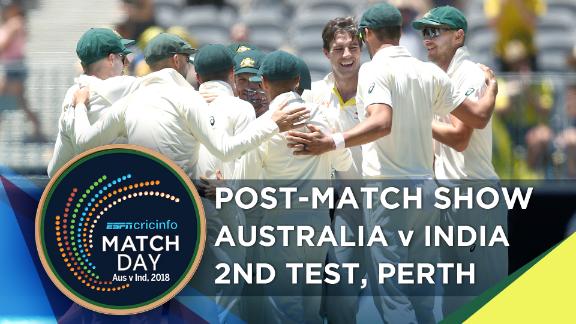 Experts pick their top individual performers of the match
Murali Kartik and Damien Martyn pick their top moments from the second Test at Perth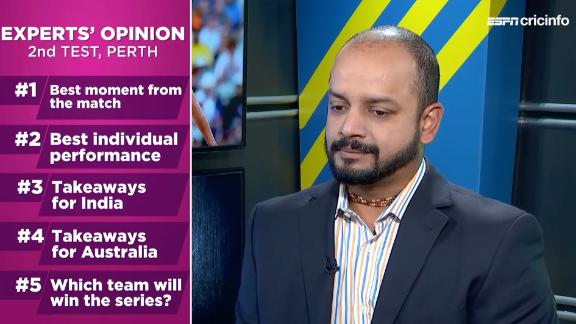 Murali Kartik: Good option to open with Cheteshwar Pujara in the third Test
The former India spinner reckoned that opening that batting with Pujara could free up a spot in the middle-order, lending India better balance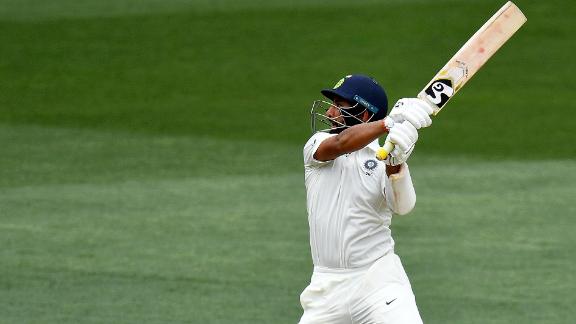 'We were totally convinced about this combination' - Kohli
The batsmen should have taken more responsibility, says India's captain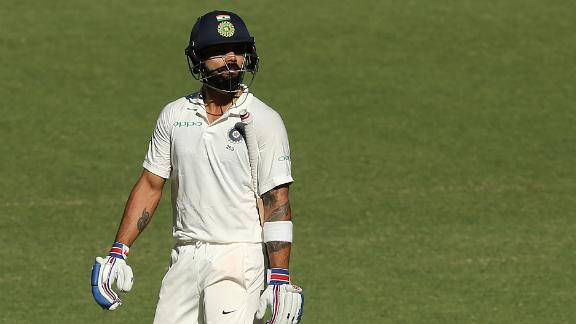 Martyn: India's lack of discipline on first day let Australia back in
Damien Martyn and Murali Kartik analyse Australia's victory over India in the second Test at Perth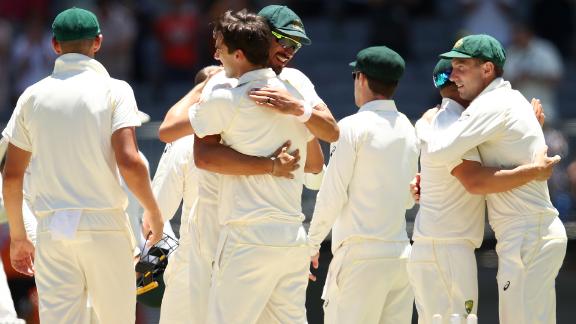 Highlights - Australia take the reins on day four after early Kohli dismissal
Faced with a target of 287, India's batsmen fumbled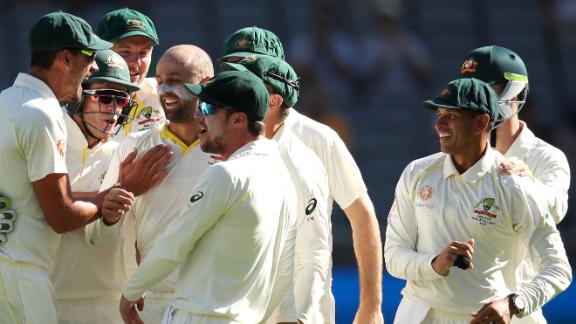 Did Tim Paine just call Virat Kohli a 'big head'?
All the action from day four at Perth in Tweets, Igrams and Gifs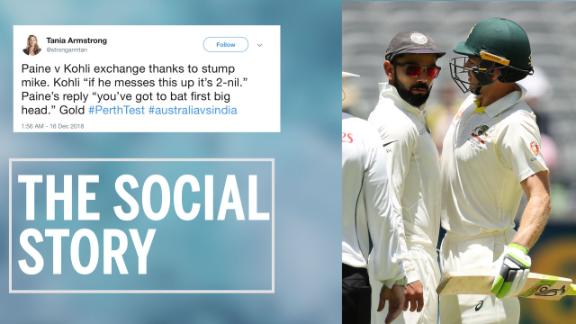 Saints hang on to top Panthers on MNF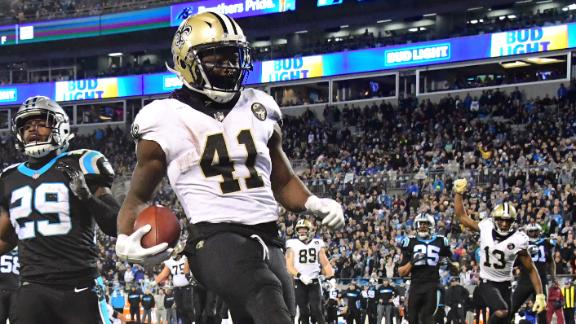 Saints hold on to win in wild fourth quarter
After Alvin Kamara scores a TD, the Saints hang on to win after giving up an INT to the house on a 2-point try and fumbling for a touchback.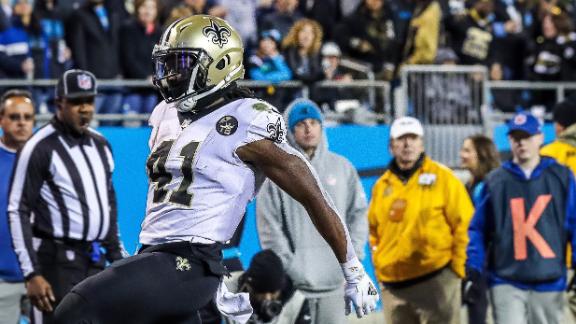 Kamara speeds past defenders for the TD
Alvin Kamara takes the handoff and races past multiple defenders for the touchdown.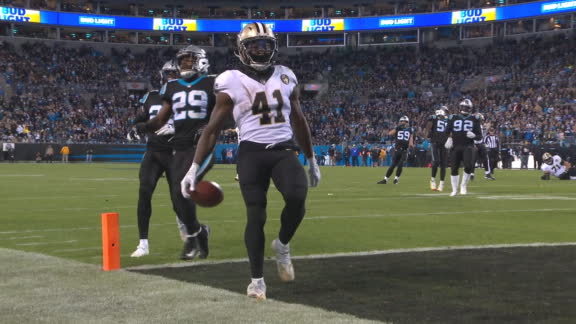 Brees looks to clean up 'little mistakes'
Drew Brees says the Saints need to clean up the small mistakes if they want to reach the level they want to be at.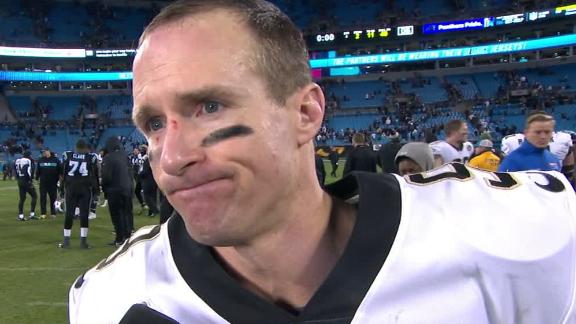 Cam Newton: I've got to be better
Cam Newton describes his frustrations on things not falling the Panthers' way and reiterates that he needs to be better.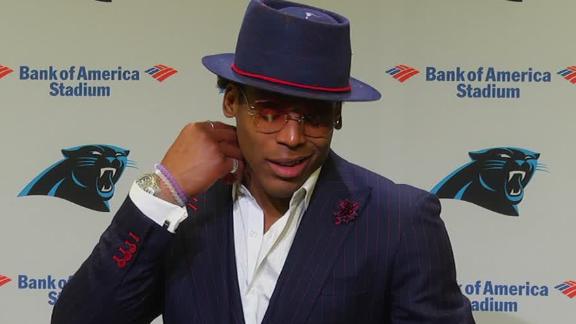 McFarland says Newton didn't look right in loss
Booger McFarland credits Cam Newton playing through an apparent shoulder injury, but says it showed in the Panthers' loss to the Saints.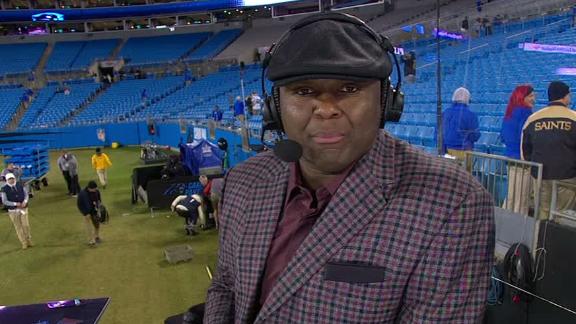 McFarland: Saints showed 'tenacity' and 'resiliency'
Booger McFarland explains how the Saints beat the Panthers and imagines what a Super Bowl between the Chargers and Saints would look like.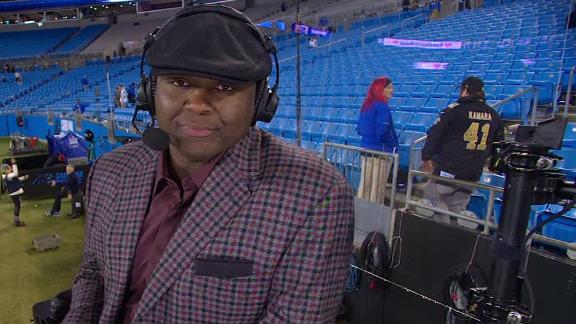 Newton's pass on 4th down falls incomplete
Cam Newton tries to keep the drive alive on 4th down, but his pass to Ian Thomas falls incomplete and the Saints would hold on to win.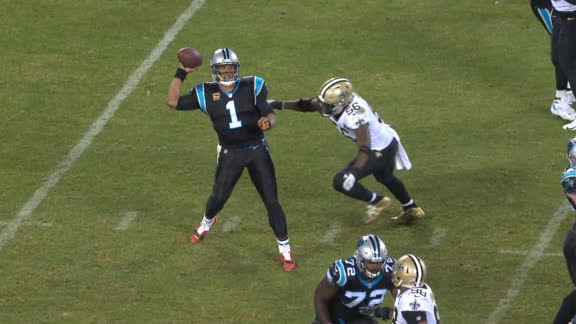 Panthers force fumble for touchback
Tommylee Lewis runs towards the goal line, James Bradberry causes a fumble and the ball goes out of bounds in the end zone for a touchback.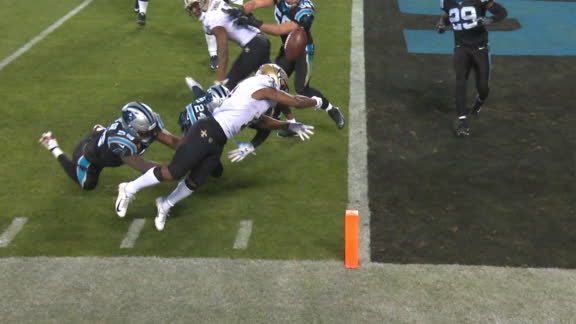 Jackson takes INT on 2-point try to the house
Drew Brees goes for the 2-point conversion and tries to find Alvin Kamara, but gets picked off by Donte Jackson, who returns for points for the Panthers.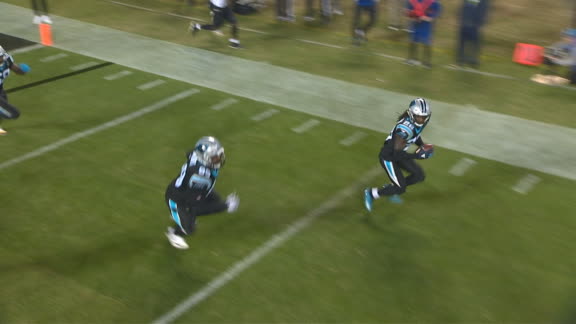 Football
Archive: Carrick reveals aspirations to be a manager
Talking to ESPN back in March, Michael Carrick revealed his aspirations to be a manager and what he has learned from playing under coaches like Alex Ferguson and Jose Mourinho.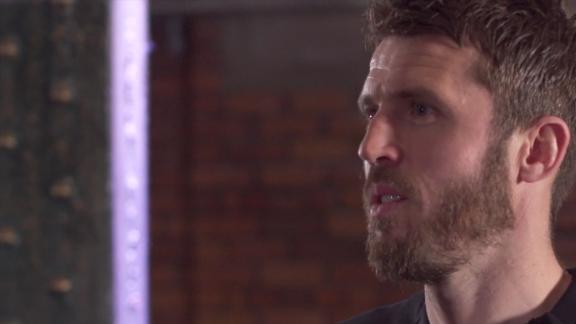 Zlatan puts an end to rumors, set for LA Galaxy stay
With Zlatan Ibrahimovic set to stay with LA Galaxy, the FC crew examine the magnitude of the decision for the player, club and MLS as a whole.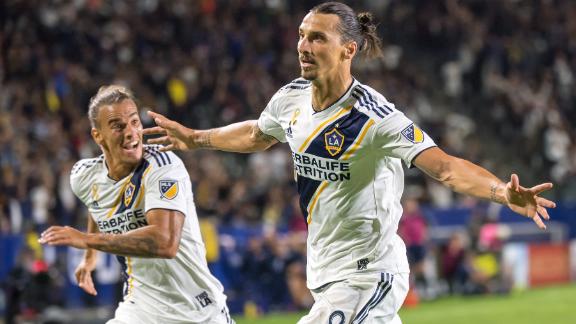 Must See
Gibson uses shoe to attempt a block
Taj Gibson defends with one shoe on, then tries to block Nemanja Bjelica's shot while holding it.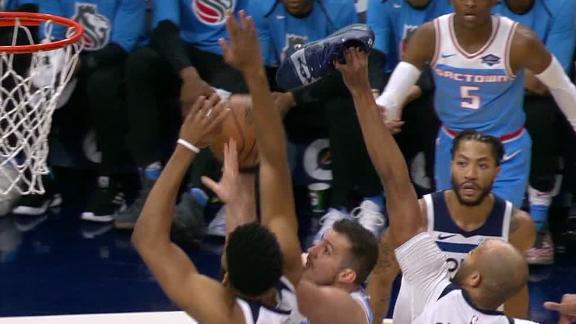 Van Gerwen, Trippier make Nations League dinner bet
England's Kieran Trippier made a bet with Dutch darts player Michael van Gerwen at the World Darts Championship where the winner of England and the Netherlands taking the other out for dinner.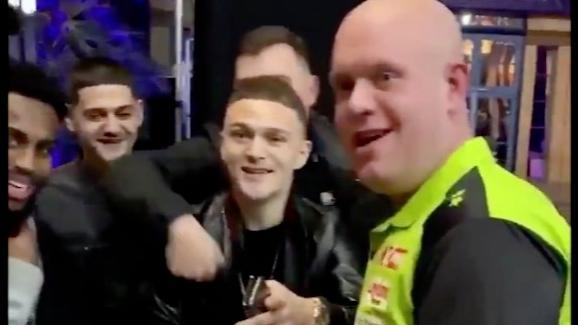 What would it take for Dolan to sell Knicks?
Adrian Wojnarowski reacts to Knicks owner James Dolan not ruling out the possibility of selling the team.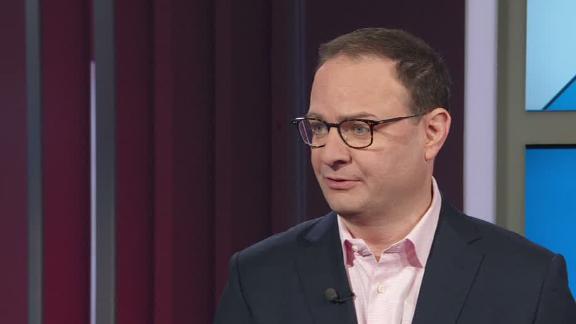 Rose: Dolan shouldn't sell the Knicks
Jalen Rose weighs in on Knicks owner James Dolan saying he would consider selling the franchise for the right price.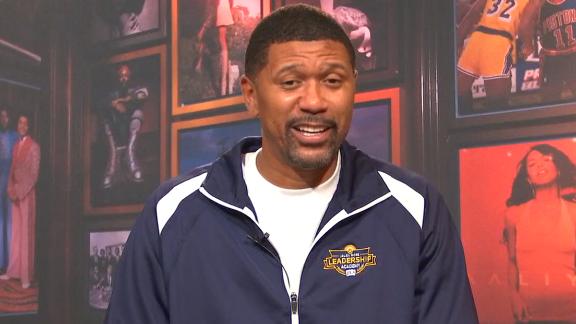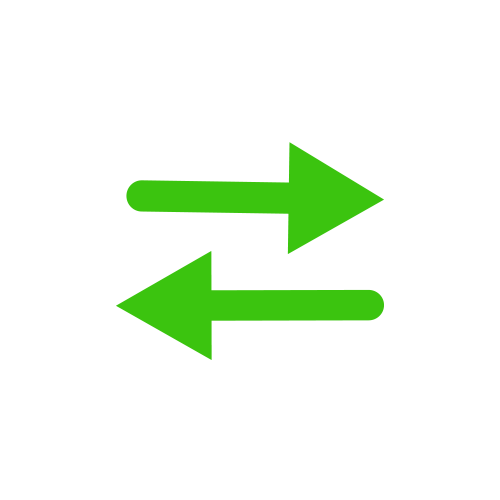 Transfers
Exploding Heads: Anyone want Danny Welbeck?
With the January transfer window fast approaching the Exploding Heads reach out to a few managers and players to sort out their future.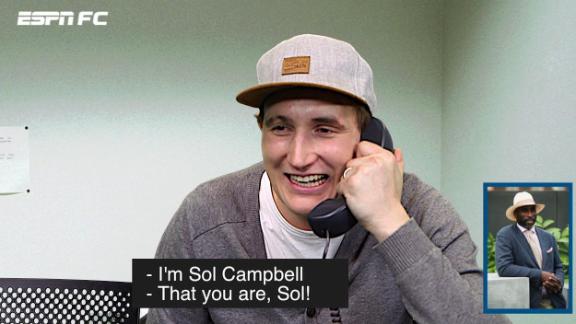 App Homepage widget

ESPN Australia

The year is winding down but the action on the court is heating up. Here's how to watch the best of the NBA on ESPN this week.

ESPN Fantasy Football promo

Manage your squad in the Premier League, Champions League, La Liga and Liga MX.

Tim Bradbury/Getty Images

Fred Hoiberg arrived in Chicago hyped as an offensive guru who could modernize the Bulls, but the team's lack of coherent vision and leadership ultimately led to his downfall.

AP Photo/Ed Zurga

Great running teams for the Chiefs. Defending tight ends for the Steelers. Here's where every Super Bowl contender is vulnerable.

Cameron Spencer/Getty Images

With rosters lodged and coaches swapped, we take a look at which NRL clubs are set for the biggest changes in 2019.

Ryan Inzana

Here are the top 100 players and managers in men's soccer, as rated by our experts.

Chris Rodriguez/ESPN

The top outfielder on the free-agent market is set to make big bucks. We put you in Bryce Harper's shoes. Where will you go?

Kelley L. Cox/USA TODAY Sports

We polled the ESPN Forecast panel of experts for their votes on what's next for KD.

ESPN
Customise ESPN